"AFDI Rolls Out Ad Campaign to Expose Jewish Leaders Who Fund BDS," by Pamela Geller, Breitbart, March 2, 2015: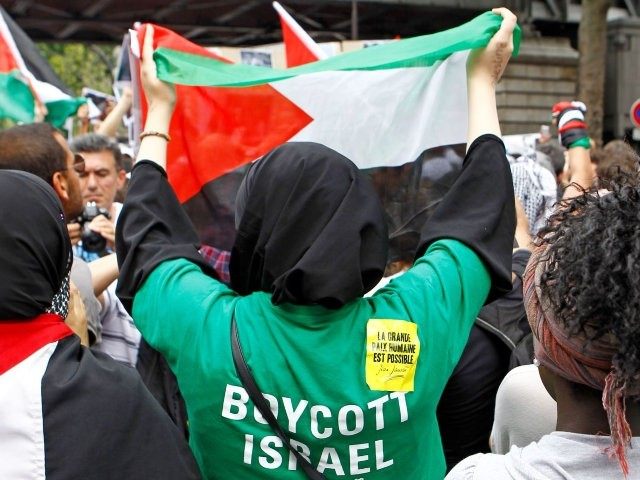 On Sunday, I wrote, "It's time to out the Jews who fund BDS." And so now that is exactly what my organization, the American Freedom Defense Initiative (AFDI), is setting out to do.

We have begun a new nationwide ad campaign to expose Jewish groups and leaders who are funding Boycott, Divestment, and Sanctions (BDS) campaigns. It is unbelievable but true: Jews in key leadership positions in American Jewish institutions are funding and supporting the most vicious Jew-hatred campaigns; BDS (the 21st-century version of Kristallnacht) is just one of them. Our AFDI ad campaign is intended to bring public awareness to their activities and ultimately move them to stop harming the Jewish State of Israel.

The initial five ads target some of the principal Jewish organizations and philanthropists that are aiding the enemies of Israel, noting that they fund "New Israel Fund's (BDS) Boycott, Divestment and Sanction. Stop the Jewish Destruction of Israel." The individual ads name as BDS funders the UJA, its President Alisa Doctoroff, Carole and Saul Zabar, the Bronfman Foundation, and Edith Everett.
Doctoroff is the President of the UJA-Federation. Other prominent Jewish leaders and philanthropists supporting BDS are Karen R. Adler, who is the President of the Jewish Communal Fund and a JCRC Board Member; David Hochberg; and Sally Gottesman.
These and other Jewish leaders in America are prominent donors [see: p. 26] to the New Israel Fund (NIF), an organization which funds BDS and other anti-Israel initiatives. Even worse, Doctoroff uses her position at UJA to promote the agenda of the NIF.
Many Jewish groups such as Birthright will no longer work with the radical, extremist NIF, yet Doctoroff is a personal donor to this organization, as revealed in their annual report.
The NIF is so radical an organization that its own lawyer, Michael Sfard, has testified as an expert witness for the Palestine Liberation Organization. Sfard has provided paid testimony for the PLO. And he is an attorney for a number of organizations that are funded by the New Israel Fund.
Our AFDI ads will make their debut on 100 buses in New York, with new ads appearing every month. AFDI plans to run them also in other cities where Jews are being targeted by BDS initiatives, including Chicago, Boston, and others.
We must shame these philanthropists who fund BDS groups – particularly the New Israel Fund. An intense public campaign has begun. We will continue to demand that any American Jew who supports the New Israel Fund withdraw such funding. The New Israel Fund must be ostracized by the Jewish community.
These leaders are 21st-century kapos, but worse. These silver spoon dilettantes don't have a gun to their heads; it's voluntary, and they mean to take us all down. They'll talk about plurality and diversity of thought, but they don't welcome me or Caroline Glick or any other fiercely proud Jews. They are leftists aligned with the jihad force.
These donors are already feeling the heat now due to a series of revelations about their activities on my website, pamelageller.com, which gets upwards of 100,000 visits daily.
Now our ad campaign is what is necessary to move the ball — and to compel the targeted donors once and for all to stop funding the enemies of Israel.
This campaign is urgently needed: the perfidy of these Jewish leaders has gone on long enough. In this age of Obama, we no longer have the luxury of indulging them. As Obama continues to turn the U.S. against her principal Middle Eastern ally, we need a strong, united front of Jews and supporters of Israel who demand that the U.S. continue to be as faithful a friend to the only democracy in that region as she has been to us.
Please help us restore sanity to Jewish lay leadership in the United States: contribute here.
Pamela Geller is the President of the American Freedom Defense Initiative (AFDI), publisher of PamelaGeller.com and author of The Post-American Presidency: The Obama Administration's War on America and Stop the Islamization of America: A Practical Guide to the Resistance. Follow her on Twitter here. Like her on Facebook here.