We've selected our $10,000 Grand Prize Winner the Muhammad Cartoon Contest. Be there for the announcement at the AFDI Muhammad Art Exhibit, keynote speaker Geert Wilders. It was tough. We received some wonderful submissions. We picked the winner. Now it's your turn to vote on who you think deserves the PEOPLE'S CHOICE AWARD for $2,500. Go over to Breitbart and leave your favorite in the comments and BUY your tickets to our event in Texas here.
You can vote in the comments here too.
Vote Now for Your Favorite Muhammad Cartoon!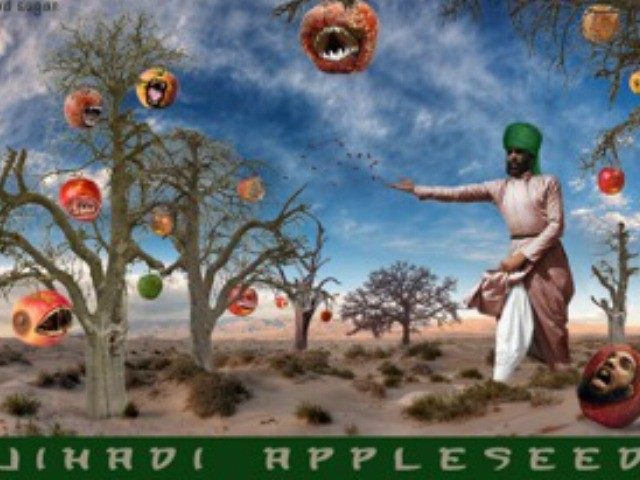 The winning cartoon will be announced at the May 3 cartoon exhibit in Garland, and the winning cartoonist will be awarded a $10,000 prize. The People's Choice Award winner will receive $2,500. You can vote in the comments here, at PamelaGeller.com, JihadWatch.org, and on a special Facebook album containing the best entries.
As we gear up for our Exhibit, the forces of evil are mobilizing en masse. An Iranian Holocaust cartoon contest has drawn 839 entries from over 300 artists, including entries from France, Turkey, and Brazil. We need to make a similar show of strength for what is right and righteous.
The keynote speaker at our Texas event will be Dutch freedom fighter and Parliamentarian Geert Wilders – one of the very few politicians on the international scene who dares the speak the truth about the jihadist threat. Also speaking will be both of us, and other freedom fighters. The cartoon exhibit will feature images of Islam's prophet, both historic and contemporary.
The exhibit will be held at the Curtis Culwell Center in Garland on Sunday, May 3. This was the site of a Muslim conference denouncing "Islamophobia" — an obscene stand for them to take after the Charlie Hebdo massacre — and our massive Free Speech Rally outside that event. The Muslim event was held in a hall owned by the local school district. When asked why they allowed that event on their premises, they answered that their hall was open to anyone who wished to rent it. So we are renting it for our Muhammad Cartoon Exhibit.
The Cartoon Exhibit was a logical next step following AFDI's Free Speech Rally in Garland. This new event will stand for free speech and show that Americans will not be cowed by violent Islamist intimidation. That is a crucial stand to take as Islamist assaults on the freedom of speech, our most fundamental freedom, are growing more insistent.
After the Charlie Hebdo massacre — and after the violent Muhammad cartoon riots a few years ago — there should have been Cartoon Exhibits all over the free world, to show the jihadists and their stealth allies (in groups that are doing all they can to intimidate the West into abandoning the freedom of speech) that we will not kowtow to violent intimidation. But there were no such exhibits. The free world was ready to submit. But we aren't. We know the risks. Of course, this event will require massive security. But this exhibit has to be staged. If we don't show the jihadists that they will not frighten us into silence, the jihad against freedom will only grow more virulent.

And we hope that this event will give others the courage to stand up as well and show the world that they aren't going to submit to intimidation. Otherwise, it is no exaggeration to say that all will be lost.
The West has to stop this pathetic cowardice and submission to barbarity. Islamists have to stop imposing repression on the non-Muslim and secular Muslim world. Enough is enough. They're just cartoons. Are we going to stand idle while psychopaths who would commit murder because of them frighten the free world into giving up the freedom of speech, the cornerstone of a free society?
It's time to stand up.
Stand with us against violent intimidation: get tickets here.
Tell us your fave in the comments:
Max Jensen
Jeff Harris
Bosch Fawstin
Melvin Guzman
GySgt Robert
Thomas Hunt
Madeline Zucker
Madeline Zucker